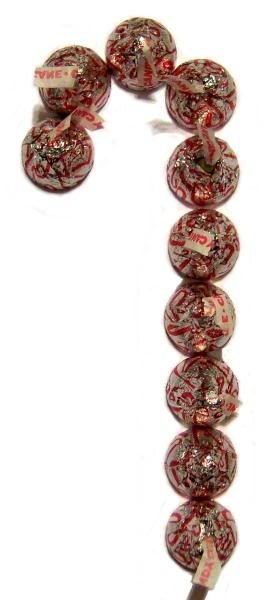 I heard a lot of good things about the Candy Cane Kisses last year, but I never got around to buying them. This year I made sure to pick up a bag. They really are quite cute. Red stripes stand out against white confection, which is dotted with red nonpareils. They are dressed in silver foil wrappers adorned with red canes.
The white confection is sweet and tastes strongly of vanilla. The infused peppermint flavor is refreshing and festive, but not overwhelming. I have to admit that I was a little disappointed, because I expected candy cane bits, not nonpareils. But the nonpareils add a nice crunch, and don't stick in your teeth like candy cane bits probably would.
Ingredient Watch: These aren't white chocolate, as they aren't made with pure cocoa butter. There's a good amount of palm, shea, sunflower, and safflower oil here. These also contain PGPR.
Nutrition Breakdown: Serving size is 9 pieces. There are 220 calories, 12g of fat, 25g of sugar, and 4g of protein per serving.
Bottom Line: Tasty and fairly addicting. Too bad these aren't pure cocoa butter; a good melt would blow me away.
Rating: 7/10
Name: Candy Cane Kisses
Brand: Hershey's
Store: Target
Price: $2.00 (11oz)