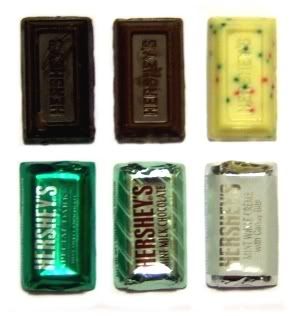 The Mint Miniatures are milk chocolate, semi-sweet chocolate, and white confection infused with peppermint flavor. They smelled strongly of mint, even when they were still sealed inside the bag. I stored them separate from my other candy because I was afraid the mint would infect the other goods.
Mint Milk Chocolate:
These are very strongly minted. Seriously. The blast of cool peppermint is really too much for me. I didn't enjoy the intense mint mixed with so much sweet chocolate.
Rating: 4/10
Mint Sweet Chocolate:
The mint flavor is more subtle here. Mint seems to compliment darker chocolate better, and this is much more pleasant that the milk variety.
Rating: 5/10


Mint White Crème with Candy Bits
: These are basically flat Candy Cane Kisses studded with red and green nonpareils, so I'll just refer you back to
that review
.
I know I gave those a better rating, but I'm sick of white confection.. I want some white chocolate!
Rating: 6/10
Overall, I wasn't too crazy about these, which I think is reflected in the quick review. The best tasting were the white, but I only had a couple because, like the Candy Cane Kisses, they are made with inferior ingredients.
Nutrition Breakdown: Servings size is 4 pieces. Each serving contains 170 calories, 10g of fat, 20g of sugar, and 3g of protein.
Name: Hershey's Miniature Mint Collection
Brand: Hershey's
Store: Walgreens
Price: $1.00 (8.5oz)