The Mint Truffle Kisses are a new addition to the Kisses lineup. I think they're either limited edition or seasonal... I guess it depends on how well they sell this year! They are wrapped in either silver or green foil; each bag has a mix of both. They are dark chocolate filled with a creamy mint center. To my surprise, the center is bright green. I guess I should have looked at the picture on the wrapper.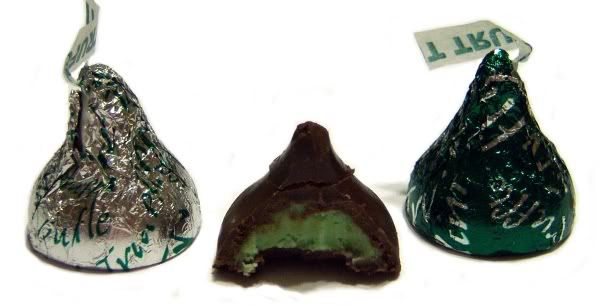 These are very strongly minted, more so than either a York Pattie or Andes Mint, which I find myself comparing these to. The center is dense and creamy, not fluffy and sweet like a York Pattie. The dark chocolate is a nice addition, but it's really overtaken by the mint. I think the chocolate comes through more in an Andes Mint.
Nutrition Breakdown: Serving size is 9 pieces. There are 210 calories, 14g of fat, 22g of sugar, and 2g of protein per serving.
Bottom Line: These are good, but I'd rather have an Andes Mint or York Pattie.
Rating: 6/10
Name: Mint Truffle Kisses
Brand:
Hershey's
Store: Target
Price: $2.00 (11oz)