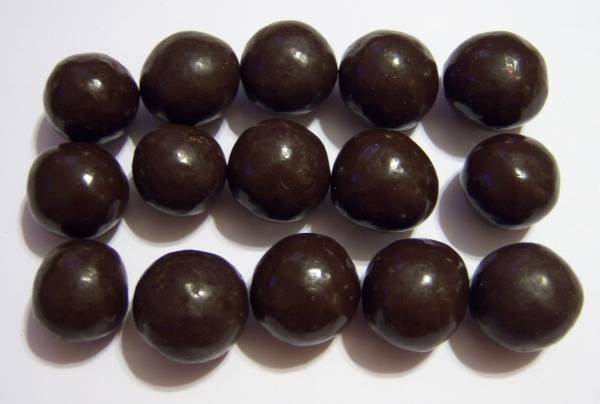 These candies are dark and shiny. The shape is irregular; they aren't perfect spheres, but they are still pretty. The box is pretty cute too, and contains about four servings of candy.
Now, let me say that I LOVE malted milk balls. My top 3 candy choices are always changing, but malted milk balls are a constant. Unfortunately, they don't seem to be that popular with others. It's rare to see a single serving bag of Whoppers down even the most well-stocked candy aisle. So I get excited when I see a malt product, and I'm not overly picky with them.
That being said, I was incredibly disappointed my these. I didn't even finish the box, and that's saying a lot.
My problem was with the chocolate. It had a fruity quality which came off as medicinal to me, like cherry cough syrup. The flavor completely overwhelmed the malt in the center; I could hardly taste it. Even worse, and rather odd, was the that the chocolate didn't melt well. I had to bite or scrape off the chocolate with my teeth. It is real chocolate, not 'mockolate,' so I'm not sure what the problem there was.
I can say that these were fresh. I never encountered one of those hard-sticky centers that can occur. Each was nice and crunchy. I can only tell you this because I spent time dissecting the candies (yes, I'm still playing with my food). I only ate a couple; the rest ended up in the trash because I really disliked the chocolate, and no one else in the house wanted them either.
I wonder if dark chocolate is too overwhelming for malted milk balls, or if it's just this brand? Or just me?
Rating: 4/10
Name: Dark Chocolate Maltballs
Brand: Harry and David
Store: Target
Price: $2.08