The Fully Loaded bars are slabs of chocolate 'loaded' with extras on one side. It's not filled, just covered. The Rocky Road bar is a slab of milk chocolate covered with dark chocolate pieces, walnuts, and "marshmallow."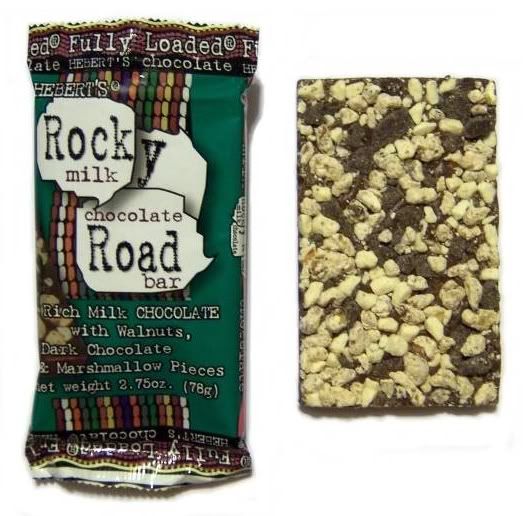 I put marshmallow in quotes because this bar doesn't contain any actual marshmallow. Instead, it's covered with what seems to be white chocolate. I suppose this is because marshmallows would go stale if you just slapped them on top of a bar. While the white confection adds marshmallow-like sweetness, the texture is totally lost.
In fact, I think the whole concept of Rocky Road is lost. Rocky Road is just chocolate, marshmallow, and nuts, isn't it? Without real marshmallow, can we really call this Rocky Road? The walnuts occasionally come in with a nice nutty flavor, but it's not enough.
The slab of chocolate itself is nice. It's rich and milky. But it overwhelms the other flavors, which are supposed to be the highlight of the bar.
I liked this bar just fine, but it didn't live up to it's name. Still, I'm interested in the other Fully Loaded bars, including the Dark Chocolate Turtle that's sitting in my candy chest!
Rating: 6/10
Name: Fully Loaded Rocky Road
Brand:
Hebert's Confections
Store: Walgreens
Price: $1.50