Cut-out, decorated sugar cookies are fun to make, especially during the holidays. But what I really love are big, round, chewy sugar cookies. I've been trying to make the perfect sugar cookie for a while now, but every recipe I've tried turned out cakey and tasteless.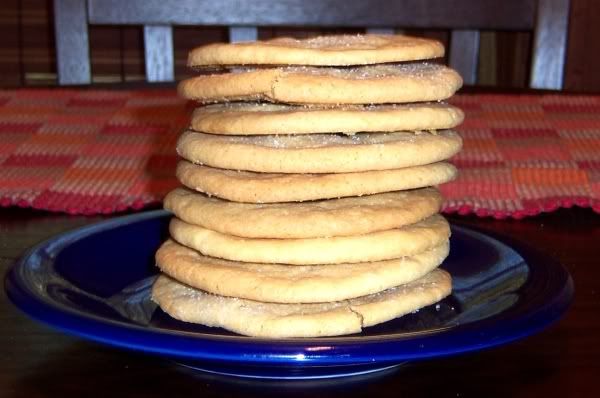 Then
Martha Stewar
t
came to my rescue! I saw her recipe for Classic Sugar Cookies posted by
yumsugar
and wrote it down immediately. I knew it would be great! It's just taken me a while to try it.
Ingredients:
3 c. flour
1 tsp. baking soda
1/4 tsp. salt
1 3/4 c. sugar
1/4 c. brown sugar
1 tbsp. lemon zest (I used one small lemon.)
1 c. butter, softened
1 tbsp. of lemon juice (I used half of a small lemon.)
2 large eggs
Instructions:
Preheat oven to 350°. Combine the flour, baking soda, and salt; set aside. In a separate bowl, combine the sugar, brown sugar and lemon zest. Add the butter to the sugar mixture and cream until light and fluffy. Add eggs, one at a time. Stir in lemon juice.
Drop rounded balls of dough onto a cookie sheet. Use a spatula to slightly flatten the dough, then sprinkle each round with sugar. Bake until golden brown (anywhere between 10-15 minutes, depended on the size of your cookies). Let the cookies cool on the baking sheet for at least two minutes, then move to cooling racks to cool completely.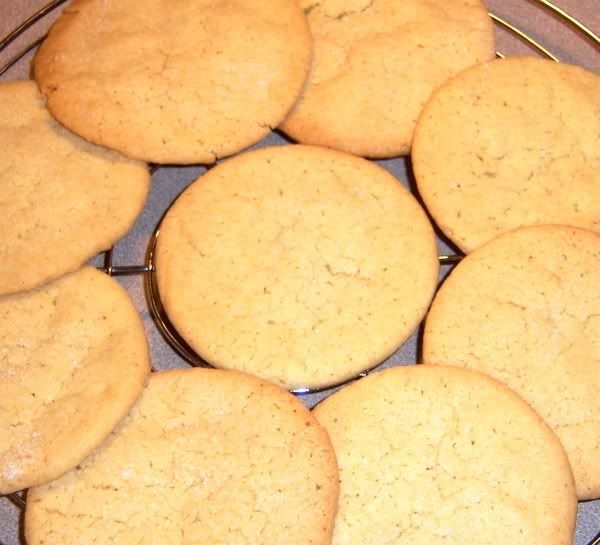 My first batch stuck to the pan slightly (that's why some of the pictured cookies are cracked). I solved this problem by separating the cookies from the pan as soon as they were removed from the oven. Don't try to remove them from the pan, because they are still too soft. Just slide the spatula underneath to separate the cookie from the pan. If you have silicone baking sheets or are using parchment paper, you probably won't have this problem.
These became crispy after they cooled, but if you stick them in the microwave for a few seconds they become soft and chewy again. You can have the best of both worlds! I thought these cookies were great, especially with a cup of tea.