These caught my eye with the line "A Better Cookie For Kids." Hey, if they're better for kids, they must be better for me too. The label reads that they are 100% organic (USDA approved), low in saturated fat, contain no trans fat or GMO, and are made from pure and simple ingredients. For me, the absence of high fructose corn syrup and hydrogenated oils warranted these a try.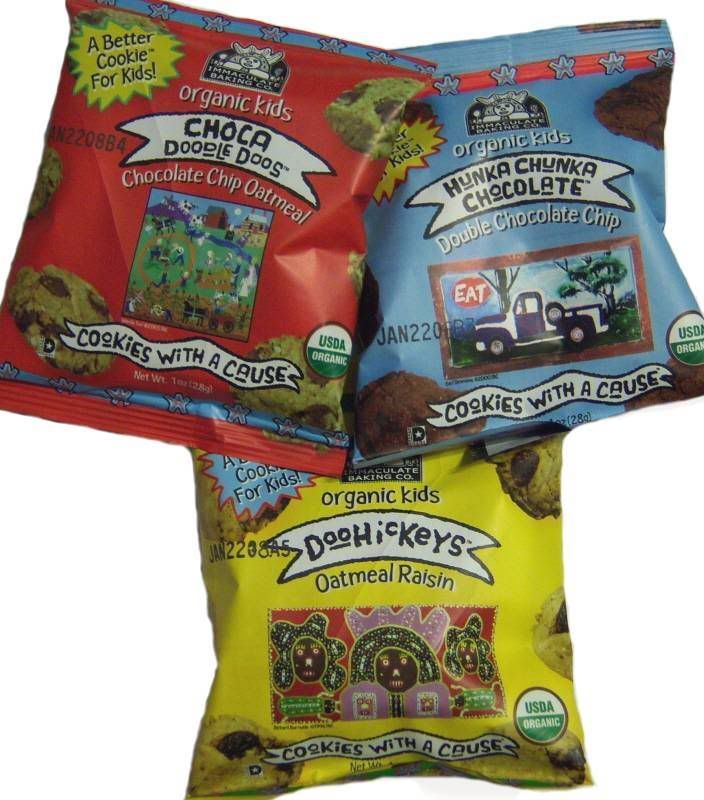 There are three varieties of cookies in the box. Choca Doodle Doos are Chocolate Chip Oatmeal, Hunka Chunka Chocolate are Double Chocolate Chip, and Doohickeys are Oatmeal Raisin. I had four bags of Choca Doodle Doos and three bags of the the other two, for a total of 10 one ounce packages. There were 5-6 mini cookies in each bag.
All three varieties had the same, rather odd texture. Usually cookies are either moist and dense or dry and crumbly, but I found that these were dry and dense. I suppose it's just the texture of the oatmeal. I don't have oatmeal cookies often, so I'm not used to it. But don't let the description of dry turn you off; they don't have a bad mouth-feel. They aren't moist, but they are nice, thick, and chewy.
Choca Doodle Doos
These are the chocolate chip oatmeal. The actual cookie has a good flavor. The oatmeal has a nice nutty taste. I'm really not tasting the chocolate though. There aren't enough chocolate chips to compete with the cookie. I'd normally give these a 5 for lack of chocolate, but the wholesome advantage bumps it up to a 6.
Rating: 6/10
Hunka Chunka Chocolate
These are the double chocolate chip, and trust me, they aren't skimping on flavor here! They have a strong chocolate taste, almost like a brownie. The thick texture also reminds me of a brownie. I usually find packaged chocolate cookies disappointing, but these served my chocolate craving. I'd have them again.
Rating: 7/10
Doohickeys
These are the oatmeal raisin. Again, they aren't skimping on flavor. They smell and taste strongly of spices, but not overwhelmingly so. There are also some salty notes, which I like with my oatmeal. There aren't a whole lot of raisins here though. I think the problem with all the varieties is that the cookies are two small to hold an adequate amount of chips/raisins. But I don't think raisins add much to cookies, so I still really enjoyed these. They were my favorite of the lot.
Rating: 8/10
I would buy these again. The cookies are tasty and I like the healthy ingredients angle. I'm also really interested in some of the companies other cookies, which include flavors like Pumpkin Ginger and Key Lime. Yum! I hope I see those in the store soon.
If you have children, I'd suggest giving these a try. The bright packaging and fun names may help them forget that these are oatmeal cookies. And if not, more for you!
Name: Cookies For Kids Multi-Pack
Brand:
Immaculate Baking Co.
Store: Target
Price: $4.99 for a package of 10