Ah, chocolate and peanut butter. A match made in heaven. This week's baking bit translates the combination into cookie form.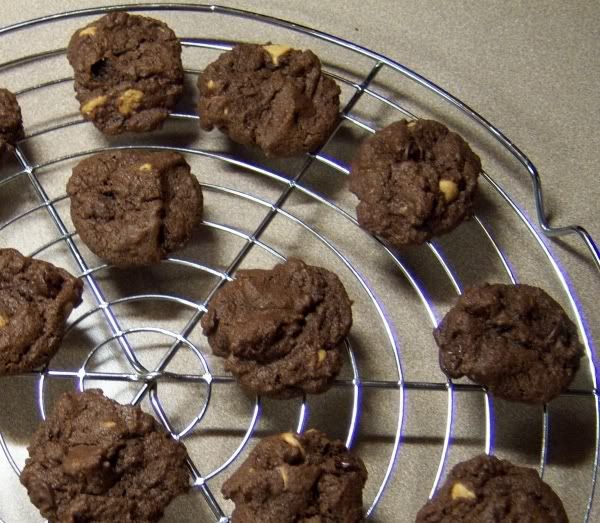 I've been making these cookies for a long time. They are my brother's favorite. The recipe comes from the back of the Reese's Peanut Butter Chip bag, but I'm sure that it can also be found at
Hershey's Kitchens
. It's always worked for me, so I've never bothered to tweak it, but I may try in the future.
Ingredients:
2 c. flour
3/4 c. cocoa powder
1 tsp. baking soda
1/2 tsp. salt
1 1/4 c. butter, softened
2 c. sugar
2 large eggs
2 tsp. vanilla extract
1 pkg. peanut butter chips
Instructions:
Preheat oven to 350°. Combine flour, cocoa, baking soda, and salt; set aside. Cream the butter and sugar until fluffy. Beat in the eggs and vanilla. Gradually add the dry ingredients. Stir in the peanut butter chips. Drop by the spoonful onto a greased baking sheet. Bake for 8-9 minutes. Cool on baking sheet for 2 minutes, then move to wire racks to cool completely.
I do recommend that you time these. I usually don't pay attention to baking times; I just use my own judgment. But it can be difficult to tell when these are done because of their dark color.
I tossed some chocolate chips in mine because we had an open bag, but I don't think they added much.
These are 'safe' cookies. Everyone likes peanut butter and chocolate. My dad and brother are picky eaters (My mom and I will eat anything.) but they both love these.